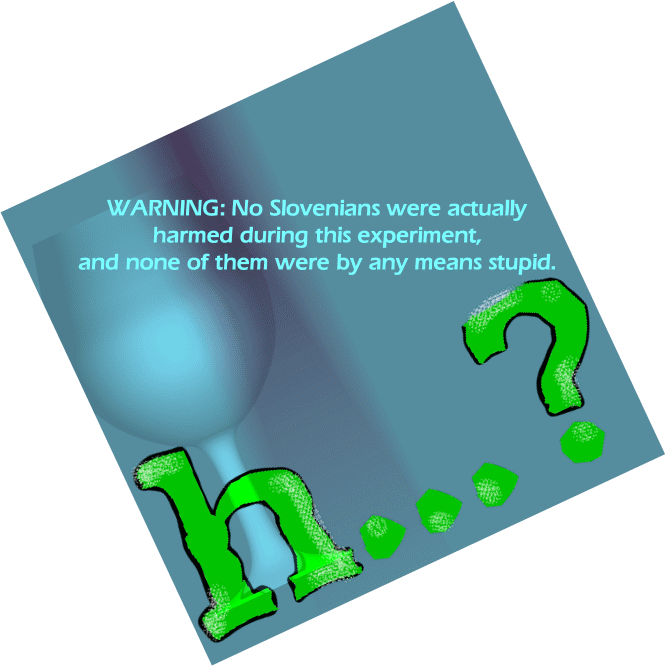 This really happened.
When you want to learn something, especially a language, there are a few things you have a right to expect.
Expressions of doubt by teachers, muddled opinions between the supposed authorities on the facts of the subject, and a subject with all the hallmarks of low self-esteem, are all unlikely to be encouraging to the pupil.
To be told, by people who ought to know, that one thing is definitely true, and then with similar conviction that it is definitely untrue, is pretty bad for any student's morale.
When inconsistencies force him to conclude that the teachers do not agree on the truth, he will be stymied, and unable to progress.
And when this recurs with a freaky predictability, he is increasingly likely to give up completely, weary and distrustful of these moody, intoxicated lurches of opinion.
And this behaviour pattern is exactly what the language "Slovenian" offers to the immigrant, should he be interested in meeting Ptuj's coked-up drunk sporty boys' demands that he speaks Slovene or gets whacked into an early old age – hit him round the head until he speaks Slovene, they reckon. I've been permanently damaged.
Recently, I was intrigued to discover h.
Is h a word?
Its occasional appearance in Slovenian newspaper articles seemed like pretty strong evidence to me.
After nine years I had all the other one-letter Slovenian words a, k, o, s, v, and z under control.
Now we must not disappoint Slovene or its speakers by not being unable to do it: the coked-up drunk sporty boys in particular are very sensitive about it, especially if you come from somewhere, and have been in Slovenia for a certain length of time. This length is very important.
I estimate starting the attacks against a non-fluent immigrant for not speaking Slovene would be OK after a year or so – probably less if they came from a southerly direction or didn't bring any money. But longer if they had more money. But less time if they had too much money.
For as in the UK and elsewhere, language problems are the non-racist's excuse-du-jour: a way to have a go at the foreigner problem which all non-racists must have, which is neither illegal – nor indeed, on its face, unreasonable.

To the learner immersed in the language of a culture, all native speakers are easily misperceived as being more closely equally authoritative on the subject of their own language than is the reality, particularly if they are able to communicate about it in, for example, English.
Assuming h would be a similar-sized problem to their language's many (often unhelpfully English-lookalikey) mini-words, I enthusiastically asked the first Slovenian who came along...about h.
He – and the first lesson is always important – immediately denied outright h was a word at all.
He was quite sure about it, eyes wide, shaking his head, shrugging his shoulders. As they do.
For after endless similar encounters I have now learned to believe nothing they say, without massive corroboration.
So it was no particular surprise to me when, 30 seconds later, a second Slovenian disagreed.
H was a word – but she seemed glazed, mired in the difficult Anglo-Slavic no-man's-land of prepositions and similar connective tissue, coyly reluctant to divulge precisely what else h was, as if fearing a trap, perhaps a plot to hold h hostage...
Offended, even. Very Slovenian, that.
Perhaps some kind of payment was expected for h.
But to which of them? Both seemed equally convinced but unconvincing. They could hardly both be right about h.
Could they?
Eventually I dragged it out of her, accompanied by the usual resentment at her having to expend all this effort helping the foreigner to do what Slovenia's coked-up drunk sporty boys have decided he must do, or get whacked into an early old age some more.

Later that day I asked two more sensitive native speakers about h. My curiosity about the statistics of h had got the better of me.
Once again, the first screwed up his face in bafflement.
And again, as usual with any grammatical enquiry about Slovene, the two of them started arguing back and forth, until the other was able to convince the first that h is indeed one of the one-letter words in their own language.
I watched on, as usual, waiting to discover which way it would go this time. To lower the stress, I have developed a sort of mental thumb-twiddling for these occasions.
Remember, I'm the one who's supposed not to know.
Was I, the student, impressed?
Well what do you think?
The biggest irritation for the locals in dealing with these enquiries is the time they lose not using the foreigner to their full advantage to practice a useful language with which they can go to another country and get some proper sex.
Why doesn't he just go and read a book, they think. Books in Slovenian have been coming out since 1550, and some that were not about religion had even appeared when Slovenian intellectuals decided to start again by switching alphabets in the 1830s.
Nowadays, each Slovenian will disagree in a unique and puzzling way with each language fact the student of Slovene picks up in some book – failing, for example, to recognise between a quarter and a half of the words my dictionary throws out. Or so they say!
So the chance of a redneck finding a hole in your vernacular, as an excuse to punch your head, is 100%. It didn't say anything about this in the brochure, and some among them will pursue it.
Slovenians have decided that you are responsible for working out how Slovene should be taught. How long they have been waiting is the main thing, they seem to believe. Meanwhile they're busy jealously guarding this expensive secret. Underneath all that, they are anyway simply unable to agree, on a case-by-case basis, what they believe to be true.
In sharp contrast Ptuj is 100% efficient when it comes to whupping up "public" indignation based around an assertion that any village drunk can comprehend: that the bias towards English (including their own) is your personal insult to them. Their frustration-to-anger curve is arithmetically linked to "how-long-you-are-here-now".
And don't forget there are many people stuck with "Slovenian" for each available immigrant with a useful language, so you can end up quite busy.
Especially so, as immigrants to Slovenia cannot be employed, due to their not speaking Slovenian – so your time and skills are always free after all!
Even better for them, Ptuj would have to hunt long and hard to find two English people who could not agree on the existence, and meanings, of a or I.
If male and heterosexual, you can expect much suspicious glaring about all the attention your free usefulness is attracting, and their concern to threaten you with a Slovenian education increases (until you disappear around a corner and they forget all about it).

It's a mystery how the peace-loving folk of tranquil Ptuj, with its peasant farmers' traditional hatred of diversity, its booze-sodden hierarchy, sexism, repressed libidos, opportunity inequality, baba čula, baba rekla, sinister air pollution, learned helplessness, intense boredom, and coke, could explode into violence at people who don't do Slovene – after of course checking they are from somewhere and have been in Slovenia for an amount of time.
Usually though it just resolves itself into a hissy fit and some widespread hatemongering gossip by people whose job seems to be sitting in the town centre spreading hatemongering gossip – whose contents, although deeply shocking in Ptuj, are rather pale and uninteresting compared to the true life of probably anyone from somewhere, anywhere, elsewhere.
In its execution, it's a woman's game, this Slovenian merry-go-round of Why-Don't-You-Learn-Slovene.
For a long time, they tell you they don't want it.
Meanwhile you are left to guess what it is.
Then they angrily demand to know why you haven't given it to them. And proceed to demean you with further reminders at every opportunity.
Post victory, they huddle in self-satisfaction at "proving" the foreigner is an idiot. On and on it goes, around and around, and the more frustrated and angry with you they become. They could have just said, in the first place. Pa ne.
Sorry if this sounds sexist, but their Slovene "issue" is a bit like too much feminism in the 80s.
It feeds a weak ego to enslave, deny, and mistreat the enemy; supposedly it's payback for centuries of slavishness, which for Slovenia suddenly ended three decades after other women's, in 1991.
My role? – I actually had no idea the Romans and Venetians, Hungarians, Austrians, Germans, Italians, Serbians and Croats were all from Essex. I'm so stoopid.

It is perhaps dangerously easy in Slovenia to forget that English is stressful or impossible for many people. But I cannot share their xenophobic knee-jerk.
Unlike all Slovenians, I never felt the need to ask Lincoln Poles or Blackburn Bangladeshis how long they had been in the UK.
And unless I was brain damaged, I wouldn't ask the same person that again and again and again and again and again. In Ptuj all such memories are erased each weekend.
Even if I'd asked, and even if it were a long time, would I have attacked them then, for not speaking English?
No such idea ever occurred to me. So despite us both being stuck in chicken town this is one big difference between Slovenians here and their National Poet.
Another difference: if I was a pugilistic 20-something chicken factory worker in the UK, I would let a 55-year old Pole or Bangladeshi – anyone – go 50 metres from his house to a poetry festival – or anywhere – speaking any language they liked, without clapping them around the head and causing them all the fun of a stroke.
But jealous drunk coked-up sporty Slovenia wasn't able to do that.
I admit I was a bit slow on the uptake about where this unexpected hatred was coming from, especially with so many enthusiastic to speak English you have to beat them off with a shitty stick. Until you suggest they pay.
It was a cultural blindness. The English-speaking world would simply not associate that sort of simmering, unpredictably vicious, feline jealousy with fisted males.
Well, maybe some fisted males...but the fighters of Angleščina Haram are trying not to be submissive.
With these issues of national insecurity, life for people trying to find out about h is a bit of a problem really.
There's no chance of avoiding easily manipulated jealous angry drunks who don't understand you in a town full of easily manipulated jealous angry drunks the size of Ptuj. And the cops and courts might side with the attackers, depending on their connections.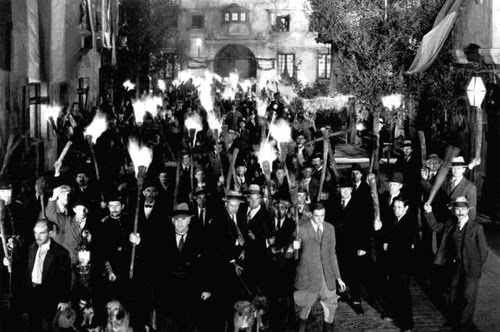 Slovenians in Ptuj finally agreeing with one another...
So now broadcasting news of my "refusal to learn Slovene after nine years" to thugs is itself a sport. One for morons looking for anything easily converted into revenge for a bad time with English in school, or their general failure to overcome virginity with their drinking prowess.
I can't fight guys a third of my age and I can't fight every jealous drunk coked-up sporty boy with a language inferiority complex.
I think I have to leave them to their chauvinist wino paradise and get the hell outta Dodge, and you can buy this house in the tourist centre of this very nice-looking town for just 1000 euros.
If you aren't from around here and can afford it, just stay remote from the locals.
Remember from the outset that every word you speak has a money value. If they don't pay, you're being subtly exploited and belittled, to their way of thinking.
Especially don't answer The Questions, as they won't remember anything anyway – especially if it's good – and will invent most of it, to fit a monotonous narrative.
In particular it should be noted that in addition to its everyday browbeating uses, How-Long-Are-You-In-Slovenia is also the village psycho's prelude to How-Come-You-Don't-Learn-Slovene...?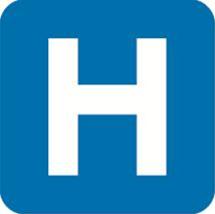 Day Two of the h experiment dawned. The fifth Slovenian openly admitted h was a word.
The sixth denied h was a word as vehemently as the first. I persisted, and soon he was backpedalling furiously. What he really meant, he said, was that h was not technically a word, because it only has one letter...and is a conjunction.
As the only Slovenian present he probably felt it a national duty to express at least two conflicting views, and misdirect and demoralise me as much as possible about the secret lingo.
Not out of ill will. I think it's an unconscious thing.
Despite quickly becoming hamstrung in his argument, the lack of a second Slovenian with whom to disagree did obviate the need for a big intellectual debate about the meaning of the Slovene word for "word", which might be – for some at least – "beseda".
For I suppose it is possible, if what he says is true, that while in English a conjunction is a type of word, and so h is a Slovenian word if you are English, h does not meet the uncharacteristically strict criteria for a beseda demanded by that Slovenian word.
Or that could be crap, like saying, for instance, that "boggle" is not a word because it is a verbified noun (from ME "bugge", cognate with the German "bφgge").
Maybe h isn't a word because no-one evvah 'eard it...hnh??
Abstract: Amid a jolly campaign of threats and further injury from the jealous coked-up drunk sporty boys, Slovenia's foreign guest continues to try to find out something from Slovenians about their language. About h. What happens?
Results: 50% of Slovenians themselves ended up finding out something about their language thanks to him. About h. And it didn't cost them a cent.
Conclusion: Victory!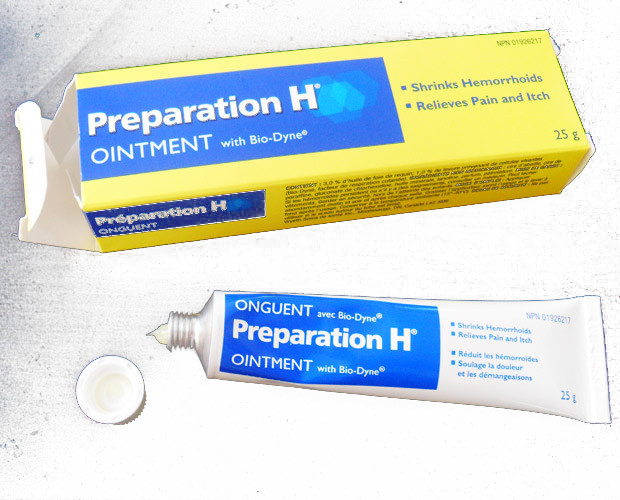 Prepare to hextrapolate...
For those one million Slovenians who missed the h lesson, and the idly curious, h is to k as s is to z, except that h precedes words beginning with g, h, and k. Like na (sometimes) and do (sometimes) and just as za and da also do (in certain circumstances) h equates to "to".
Clearly it is very hard for Slovenia to put itself in the shoes of English speakers, who historically had so much money for ink and paper, and space to keep them, that they did not need to condense everything into the shortest number of characters possible, yet somehow found democratic ways to settle on a single candidate for many basic grammatical tasks. Across a vast territory.
Or is English missing out, not having three different words for "and" – one just for poetry, and one which apparently sometimes moonlights incognito as a "but"?
Depending on how many and whom you ask, of course. And this is no isolated case.
The third Slovenian also found out – whilst the sixth experimental subject sort of finally convinced himself he remembered – about "a", which might also mean "but" – perhaps in towns or villages where pa is not being but – that is when pa is not being "and" – and when but is not being ampak.
But/or, say some, "a" might be short for either ampak or ali. Or/but to put it another way, are the native speakers saying not only that "but" = "and", but/and "and" = "or" but/or/and also that "but" = "or"? Or not?
The autochthons' inability to handle the realities of "a" is about as useful as their trance-like ambivalence on h.
You will be leaving soon anyway, Slovenia assumes, with a chilly smile. Perhaps for a country with health insurance for foreigners – and no buts.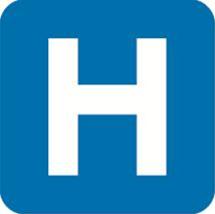 But if you stay to learn Slovene, you should resist advancing to the numerous two letter words, let alone those multi-letter words for "beer", "ashtray", and "two of them". These will undoubtedly be presented to you as the cornerstones of its vocbulary.
Forget all that, until the Slovenians get as good at the one-letter words as you are.
By the time you sort out the few reliable facts from the endless misinformation and unrepresentative cretin argot you will be too frazzled to bother much any more. Victory!
Meanwhile simply defuse each angry jealous English-hating small town coked-up drunk sporty boy with a language inferiority complex as he comes at you – with fists flailing and the glimmer of a psychotic rationale.
Ask him for examples of the perfective, or whether h takes a tožilnik, dajalnik, or mestnik. He will soon be kicking around something equally irrelevant, such as a health insurance system, tourist industry, or bank.
You're wasting my time, Slovenian. You're not big and it's not clever. I will take you ever so slightly more seriously when you reach a majority about your one-letter words.
Or non-words – if that's going to be your one and only school of thought.
But wait! I guess the jealous English-hating coked-up drunk sporty boys with inferiority complexes could just not have a non-racist Slavic campaign to deliver pro-educational head injuries to people who don't speak any of Slovenia's languages, who have come from somewhere and been there for a length of time. Pa ne.
Of course Slovenia has other things to offer. Is there perhaps somewhere the snorty sporty boys can be given a homeland of their own?
Somewhere they can drink themselves comatose, snort themselves awake again, and high-five each other in a relentlessly team-spirited way – somewhere far removed from women and the imperialist sounds of English, an area homogenous racially, sexually, linguistically, and the same as far as the eye can see in every other way. Somewhere with no girls' drinks such as cider, where they can reign as kings, punch each other and play with their balls all day.
Or/but/and if you can neither speak English nor leave us uninjured, how about substituting your very Slovenian offendedness with some less anti-incentivised, more constructive approach, to give us a sporting chance at relearning the songs bestowed by our obstetric geolocation, and overcoming all the other problems which we face in dealing with the likes of h, described previously? Pa ne.
Or is it just me? Well, at school I reached second in a class of over thirty in French, third in a similar class size at German. Maybe you just think I wanted to live in a country where I couldn't communicate? That would make you pretty stupid. So no. It isn't me. Not even 1%.
Combat damage in the language wars makes it too late in the day for me now, but warning future settlers of the erratic nonsense and ultimately violent campaign they face being put through here seems the decent thing to do.
Intelligence is no guarantee of reliability: some are so jealous they will say anything to put you in danger. Possibly the most efficiently dangerous misdirection I have heard is "no-one will mind if you get the endings wrong".
Even the dumbest mutt couldn't really believe that. A good rule when talking to heavyweight boxers is to avoid words ending in -a.
After a honeymoon period which ends when everything of potential use about you is extracted without any language problems whatsoever, Slovenians let rip with their tedious, self-serving little fundamental attribution errors: you are a retard, you think you are better than them, you are refusing to learn Slovene...and on it goes.
Anything except the obvious situational factors – divided, drunk, and docile to some of the dimmest dogmas I ever heard*, they cannot even teach Slovene with particular success to each other. You have got a brain damaged population there, but at least you sold them a drink.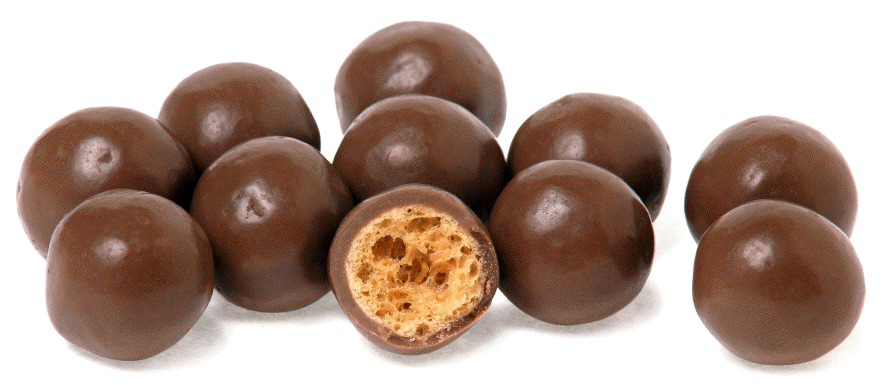 *What else can you learn once you speak Slovene? Many fully-grown adults in Ptuj in the 21st century have earnestly confided with me some esoteric medical knowledge: red things such as cherries and (usually it's) wine are good for your blood, because blood is red, see?
If only Slovenia's alcoholics could lay their hands on the miracle cure for all who suffer from hemhorroids...Maltesers! Perhaps Krka can get a licence.
So a quick summary for Ptuj's drunk philosophers, drunk teachers, drunk bureaucrats, drunk cokeheads, drunk athletes, jealous drunks, drunk drinkers – all of its great variety of language experts: nagging is not teaching; bullying is not teaching; shouting is not teaching; insulting or demeaning the pupil is not teaching and nor is competing to prove that you are better at his language than he is at yours; tut-tutting is not teaching; demanding it must be learned but from some other non-existent person is not teaching; hating anything different is not teaching; sexual jealousy is not teaching; trying to find out whether I can afford to be your "friend" is not teaching; threatening to drive us out of town if we don't learn Slovene is not teaching; blowing carcinogens at us isn't teaching; delivering bloodclots to our brains is not teaching; and not really being quite sure...that sure isn't teaching. You need to settle on a reasonable price for learning Slovene – and pay promptly.
Finally you need to understand the difference between a language school and a pub. Actually, between everything and a pub. I hope you learned something there.
But/and/or wait! Could Slovenia perhaps imitate my idea of clearly and simply revealing everything I know about my language free of charge, and yet still somehow managing to know what the fuck I am talking about? Pa ne.
Some kind of teaching system, yes. Of a kind as yet unknown. An indoor, yet tobacco-free one whose teachers are not drinking or just having a bit of a racist grumble, and have clearly defined methods and goals – and big tits. And who speak English...OK, I'll just go.
Further tips on how it will go wrong for you here.


BALANCE AND OBJECTIVITY - The author wishes to point out that the majority of Slovenians encountered were not small town jealous drunk coked-up sporty boys with some kind of clanistic language inferiority complex. Generalisations are a terrible thing, be they about jealous drunk coked-up sporty boys, or people who don't speak Slovene.
WHAT'S WITH THE APPLES? Feeling a bit crosseyed and freaked out? Reading through these headache apples simulates mildly for Slovenian readers and non-students of Slovene the circular, ping-pong poisonous and/but/or victorious approach-avoidance effect of the above-described going-nowhere Slovenščination process on my Anglobrain.
MONEY: This interesting, contemporary, relevant, and useful cultural linguistics study was funded by me.
HELP WITH TREATMENT FOR THE EFFECTS OF THE PTUJ SLOVENE LESSONS: Will trade medical proofreading for medical services, legal for legal, etc. 50 pages will buy an MRI scan, another 50 a qualified consideration of progressive subdural hematoma, another 50 will help obtain peripheral circulatory rehabilitation, pharmaceutical regimen.
300 or more pages of fixing your often very amusing English would enable relocation to a safe area for an English speaker who has come from somewhere and been in Slovenia for an amount of time. It may even help you to escape too. The patient needs to be somewhere where he meets the correct bureaucratic formula for a stroke treatment only necessitated by grumpy drunks whom he reminds were born with a sucky language. Until he disappears around a corner and they forget all about it.
Just 10 pages of work earns enough to bribe a doctor, again solving any language problems.
No, I'm not joking now, of course. With the Upravna Enota's five year minimum before you can insure for medical treatment for non-Slovene-speaking related injuries, and Mr Zamuda, the boss of the Ptuj ZZZS who doesn't know how to copy and paste on a computer, still unwilling to provide cover (which won't cover anything you might get anyway) after THIRTEEN YEARS, Slovenia's glorious healthcare system is SIX YEARS TOO LATE WITH MY TREATMENT AVAILABILITY already.